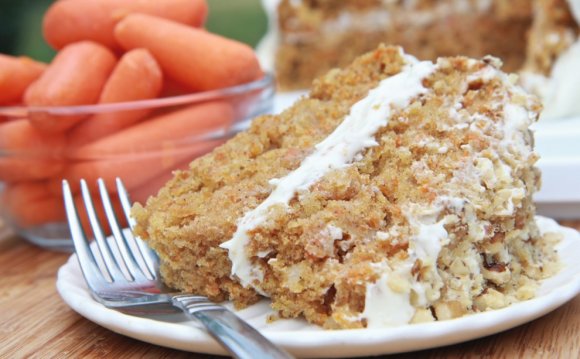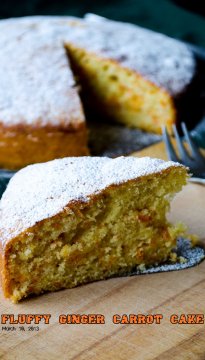 This is one of the favorites of our guests! We do love it too! You know why? It's one of the easiest cakes I've made several times. Trust me, it's a fool proof cake and anyone can make it well. If you think that baking requires a special talent and if you think you don't have it, this ginger carrot cake will change your mind. Try and see!
I remember the times I was trying to find an easy carrot cake recipe years ago. Even after failing several times, I didn't give in and gave another chance to myself.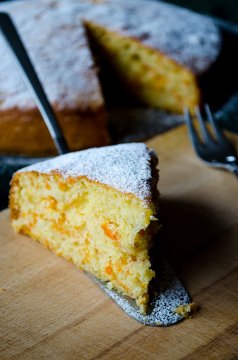 So what did I do wrong? Let me make some confessions in this post! The measurements I used once was not right, so my cake looked like it rose just perfect with a golden crust, but it collapsed down as it cooled. You can imagine my disappointment. The amount of flour I used was not enough for that batter, that's why it made me that surprise. I tried it again and this time the cake pan I used was too large for my cake batter and it just couldn't rise well. Still another time, the amount of carrot was not enough and they were invisible in the cake!
I was lucky then since mom always encouraged me saying my cake was tasty and just needed some improvement. So this ginger carrot cake was my third or fourth trial and I haven't needed to try another one since then. This is my ultimate carrot cake recipe! I don't know why I didn't share it with you earlier. Let's say better late than never!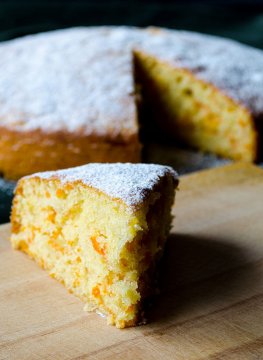 My friends sometimes ask me whether I have ever failed baking something and I give this example each time. Then they want the recipe for my ginger carrot cake!
Carrot cake is mostly flavored with cinnamon in our cuisine, but I think ginger matches better with carrot, so I use ginger instead. You can absolutely replace it with cinnamon or just leave them out.
This is a light and fluffy cake, so one can eat two or three big slices at a time. Also, it is not a too sweet cake. I want to feel the sweetness of carrot as well, so I just use 1 cup sugar.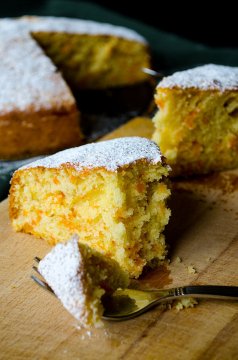 If you like your cake sweeter, you can add ¼ or ½ cup extra sugar but my advice would be to dust your carrot cake with powdered sugar to adjust the sweetness of it.
You can keep this cake covered for up to 5 days at room temperature.
Fluffy Ginger Carrot Cake
Not too sweet carrot cake flavored with ginger.
Ingredients
1 cup sugar
3 eggs, at room temperature
½ cup olive oil
½ cup milk, at room temperature
2 and ¼ cup all purpose flour (or whole wheat)
2 tsp baking powder
1 tsp vanilla powder
1 tsp ginger powder
2 and ¼ cup grated carrot
1 tbsp grated lemon zest
1 tbsp powdered sugar for dusting
Instructions
Preheat oven at 180C.
Butter a 22cm round pan.
Mix sugar and eggs until fluffy.
Whisk in milk and olive oil.
In a separate bowl, sift together the flour, baking powder, vanilla powder and ginger powder.
Add the dry ingredients to the wet ones and stir with a spatula. Do not overmix.
Fold in grated carrot and lemon zest and pour the batter into the buttered pan.
Bake it for 45 minutes or until a toothpick comes out clean.
Remove from the oven and let it cool.
YOU MIGHT ALSO LIKE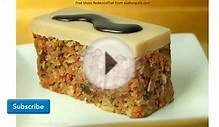 Christmas Healthy Carrot Cake Recipe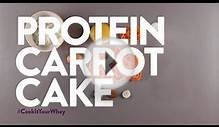 Protein Carrot Cake Recipe | BULK POWDERS™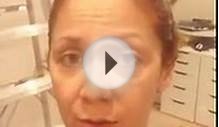 Perfect Moist and Fluffy White Vanilla Cake Recipe
Share this Post