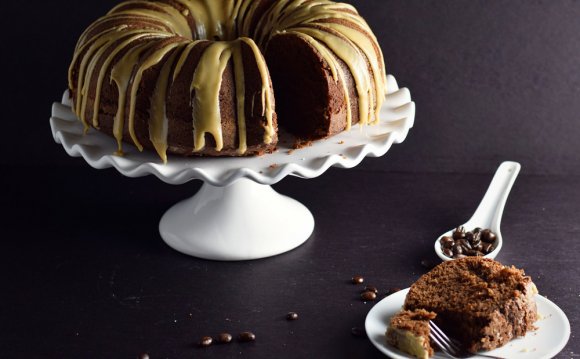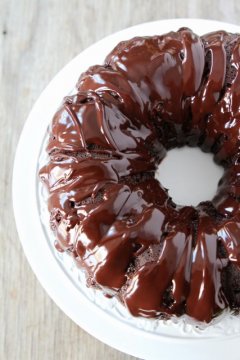 I like cakes that are easy to make and this one definitely fits the bill. There are no complicated steps and you don't have to spend hours or days decorating. You don't even need a mixer to make this cake, you can whip it up by hand! I love my KitchenAid Mixer to pieces, but sometimes it's nice to do it the old fashioned way.
The cake calls for sour cream, but I usually use plain Chobani Greek yogurt since we always have it on hand. It produces a lovely cake as well. Use whatever is in your fridge. I like to use Dutch processed cocoa for a deeper chocolate flavor. Break out the good stuff for this cake, it's worth it!
The chocolate glaze is silky, smooth, and so divine. It would make anything taste good. Drizzling it on top of this amazing chocolate cake really should be illegal. I want to continue baking and eating this cake, so please don't tell the police. I don't want to go to jail. Let's keep this our little secret:)
This cake is very rich and a small piece usually does it, but since it's my birthday I think I need a big fat piece…for breakfast:) Starting my birthday with chocolate cake must mean it's going to be a great year. At least that's what I'm going with. We shall see! At least I know my day will be wonderful!
This Chocolate Sour Cream Bundt Cake is perfect for any celebration or just because you need chocolate. I am a firm believer that every day should be celebrated and there is no better way to celebrate than with chocolate.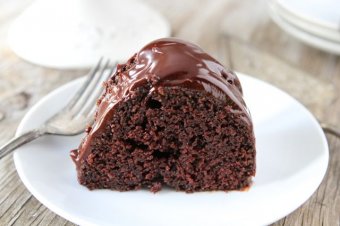 And if you want to make your Valentine's heart go pitter patter, just give them a slice of this cake. Everything will be smooth sailing after they taste this Chocolate Sour Cream Bundt Cake!
If you are looking for the perfect chocolate cake recipe, you've found it! You will need a glass of milk to wash down this rich and chocolaty cake!
Yield: Serves 10
Prep Time: 15 minutes
Cook Time: 45 minutes
Ingredients:
For the cake:
1 cup unsalted butter, plus more for the pan
1/3 cup cocoa powder (we use Dutch processed)
1 teaspoon kosher salt
1 cup water
2 cups all-purpose Gold Medal flour, plus more for the pan
1 3/4 cups granulated sugar
1 1/2 teaspoons baking soda
2 large eggs
1/2 cup sour cream (or Greek yogurt)
1 teaspoon pure vanilla extract
For the chocolate glaze:
4 ounces bittersweet chocolate, finely chopped
1 1/2 tablespoons corn syrup (or agave nectar)
1/2 cup heavy cream
1 1/2 tablespoons granulated sugar
Directions:
1. Position a rack in the center of the oven and heat to 350 degrees F. Butter and flour a 10 or 12-cup Bundt pan and set aside.
2. In a small saucepan, combine the butter, cocoa powder, salt, and water and place over medium heat. Cook, stirring, just until melted and combined. Remove from the heat and set aside.
3. In a large bowl, whisk together the flour, sugar, and baking soda. Add half of the melted butter mixture and whisk until completely blended. The mixture will be thick. Add the remaining butter mixture and whisk until combined. Add the eggs, one at a time, whisking until completely blended. Whisk in the sour cream (or Greek yogurt) and the vanilla extract. Whisk until smooth.
4. Scrape the batter into the prepared pan and bake until a toothpick inserted into the center of the cake comes out clean, 40 to 45 minutes. Let the cake cool in the pan for 15 minutes and then invert onto a rack. Let cool completely before glazing.
5. While the cake is cooling, make the chocolate glaze. Place the chopped chocolate and corn syrup (or agave) in a medium bowl and set aside. Combine the heavy cream and sugar in a small saucepan and put over medium heat. Stir until the cream is hot and the sugar is dissolved. Pour the hot cream over the chocolate and whisk until smooth.
6. Generously drizzle the glaze over the cooled cake, allowing it to drip down the sides. Cut into pieces and serve.
YOU MIGHT ALSO LIKE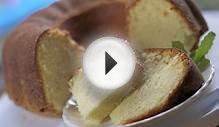 Moist Whipping Cream Pound Cake Recipe | Divas Can Cook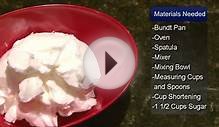 Red Velvet Bundt Cake Recipe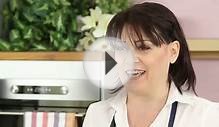 Bundt cake ( ciambella ) - Italian recipe
Share this Post