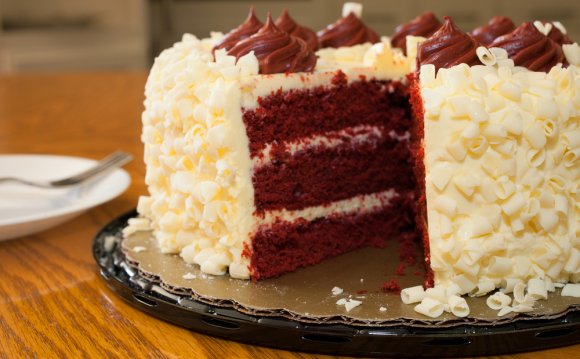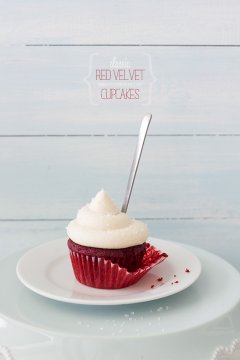 Am I the only one who just realized that next Friday is the 4th? As in July the 4th? As in we're already halfway through 2014?! Woah.
Not to mention the fact that it's prime time to start thinking about 4th of July recipes… Do you already have this all figured out yet? If so, MAJOR kudos to you for being so prepared. I'll shamefully admit that I'm not nearly that good at planning ahead. I'm just hoping that Red Velvet Cupcakes will make up for that.
Even though these are really fair game for any occasion, I have three reasons to convince you that Red Velvet Cupcakes are perfect for a go-to July 4th dessert:
1) They're a classic, All-American Dessert.
2)They're red (an obvious, but it still needs to be stated).
3) Anddd everyone loves them.
Reason #3 might not be a 100% valid statement, but I'd like to think that it's 99.99% true.
Either way, these Red Velvet Cupcakes are ones to keep in your arsenal for the 4th or any occasion that calls for cupcakes. They're ALL THE THINGS that a perfect red velvet cupcake should be… soft and moist, with just a hint of cocoa, and topped with a sweet-but-tangy, spoonable, swoonable cream cheese frosting. I've had countless people test out these cupcakes for me (it's a hard job, you know), and the overall consensus is that they're aces.
Fourth of July dessert? Yeah, I'm on top of that. :)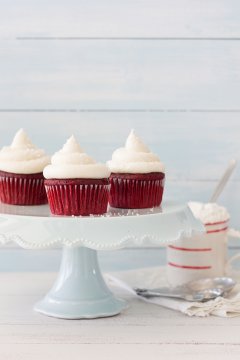 A Red Velvet Cupcake recipe to keep in your recipe book: moist and tender cupcakes with a hint of cocoa, topped with tangy, sweet, and creamy Cream Cheese Frosting.
Ingredients
Red Velvet Cupcakes
4 3/4 ounces (1 cup + 2 tablespoons, spoon and level) all-purpose flour
1 1/2 tablespoons natural cocoa powder (not dutch-processed)
1/2 teaspoon baking soda
1/2 teaspoon salt
3 tablespoons unsalted butter, melted
3 tablespoons canola or vegetable oil
5 1/4 ounces (3/4 cup) granulated sugar
1 egg, room temperature*
4 1/4 ounces (1/2 cup) low fat buttermilk
1 1/2 tablespoons liquid red food coloring
1 1/4 teaspoons apple cider vinegar**
1 teaspoon vanilla extract
Cream Cheese Frosting
6 ounces (1 1/2 sticks) unsalted butter, softened
6 ounces cream cheese
12 ounces (3 cups) confectioner's sugar, sifted
1 1/2 teaspoons vanilla extract
generous 1/8 teaspoon salt
1 1/2 teaspoons milk or cream, as needed
sparkling sugar (optional)
Instructions
Preheat oven to 350ºF and line a standard size 12-cup muffin tin with cupcake liners.
Sift the flour and cocoa powder into a bowl. Whisk in the baking soda and salt.
In a separate bowl, whisk together the melted butter, oil, and sugar. Whisk in the egg until the mixture is smooth. Whisk in the buttermilk, food coloring, apple cider vinegar, and vanilla until evenly combined.
Add the dry ingredients to the wet and stir/fold in until incorporated. Be careful not to over mix; the batter can have some lumps and does not need to be smooth.

Cream Cheese Frosting

Divide batter evenly between lined muffin cups; each one should be about 2/3 full. Bake cupcakes in preheated oven for 15-20 minutes, and then transfer to a wire rack to cool completely before frosting.***
In a stand mixer, beat the cream cheese and butter together on medium-high speed until well-combined. Scrape down the bowl and beater and add the powdered sugar. Beat in, starting at lowest speed and increasing as it's incorporated. Beat on medium-high just until smooth and fluffy. Beat in the vanilla and salt. Add milk or cream as needed to reach desired texture.
Transfer frosting to a pastry bag and pipe onto cooled cupcakes.**** Sprinkle with sparkling sugar if desired.
Notes
*To quickly bring eggs to room temperature, place in a bowl and add warm water to cover. Let sit for about 5 minutes before using.
**Distilled white vinegar should work fine as well, but apple cider vinegar will contribute to the red color of the cupcakes.
Go tree quotes - top 52 green tree quotes besttreecuttingquotes.com.
YOU MIGHT ALSO LIKE
Bake With B!: Classic Mini Red Velvet Cupcakes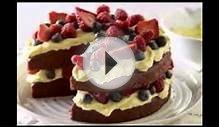 Red Velvet Cake Recipe Uk Easy - I Love Chocolates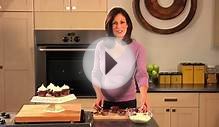 McCormick® Red Velvet Cupcakes
Share this Post