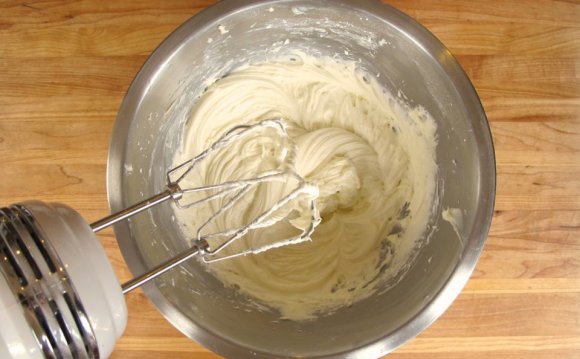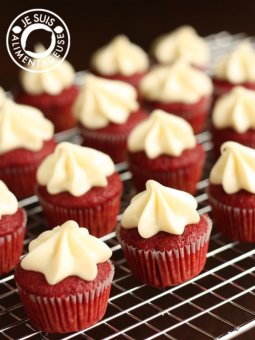 It's been about a year and a half since I posted my favourite red velvet cake recipe on Je suis alimentageuse. Since I've found that recipe, I use it for my cake pops and truffles not only in red, but also in purple. It is the most well received cake recipe that I have, being both subtle in flavour, as well as a light, fluffy cake that works amazingly with the cream cheese icing. But ever since I discovered the "evils" of food colouring, I have been hesitant to use food colouring ever since. Of course, every now and then, I succumb to the needs of having brightly coloured food, but I wanted to find a recipe for natural red velvet cupcakes made with beets, which surprisingly, was really hard for me to do.
I have odd standards for the recipes on my blog. I don't want to have to buy extra ingredients at the grocery store that are specifically for one type of cake. Since I had some leftover beets from a recent batch of summer borscht, I wanted to use the boiled and grated beets that I had on hand. Most recipes I found said to either used canned beets, although cooked, the recipes I found wanted to use not only the beets, but also the canned liquid from the beetroots. Another recipe I found wanted me to use RAW beets for the best results. I thought, bah humbug, I'm not going to buy MORE beets. Who do you think I am? Dwight Shrute's most loyal customer? I mean I love beets, but not that much. Once I finally located a recipe that called for cooked beets (they were roasted, but boiled did the trick for these), I shouted EUREKA! and went on my merry way to the kitchen. Natural red velvet cupcakes with beet goodness, here I come.
On another topic, the history of red velvet cake was slightly interesting to me. Some people told me that beets were traditionally used to colour the batter, while almost all of the recipes by famous chefs in the culinary/internet world used food colouring. If I knew of the proper resources for the history of red velvet cupcakes, I would state with certainty the facts I have discovered about red velvet cupcakes. However, since the only source I had was Wikipedia, the graduate student in me wants you to be wary of these facts and to do your own research.
According to Wikipedia and Leelabean from Leelabean Bakes, the red velvet cupcakes we know today are not the traditional red velvet cupcake. Back then, they were in fact made with food colouring, although similar to today, the distinctive texture of the cake was made with baking soda, vinegar/lemon juice, buttermilk, and cocoa powder. However, when finances were limited back in the day, some bakeries had to resort to using cheaper methods of dying the batter red—beetroot juice for example.
The main difference was in fact, the choice of icing.
What we see nowadays is often cream cheese icing. Usually only with 3-4 ingredients, and is simple. Just whip up the ingredients, and you get a luscious, creamy, frosting that isn't too rich or buttery. However, according to Leelabean, traditional red velvet frosting is a roux-based frosting, also called ermine frosting. I didn't make it to ice these cupcakes, but sounds like a dreamy frosting and I most definitely will be trying it out in the future.
In the meantime, these cupcakes are similar to the other vegan cupcakes that I've made, like my green tea cupcakes and my coconut brûlée cupcakes. Although I did not use my typical flax seed meal mixture to replace eggs, these cupcakes use the beets as an egg replacer, not only dying the batter with a bright red, but also making the cupcakes a little healthier by adding some beet fibre, iron, and nutrients.
However, these cupcakes do not use the traditional mixture of buttermilk, vinegar, and baking soda to give the batter volume. Using baking soda would dull the red colour in the batter, as well as the basic pH level of Dutch processed cocoa powder. To keep the colour vibrant and red, make sure you use baking POWDER and not baking soda, as well as natural cocoa powder, which is slightly more acidic than its Dutch-cousin. Go, go, science!
These cupcakes received rave reviews, both for taste as well as healthiness (aside from the cream cheese icing). The cupcakes themselves are vegan, but the original icing I made was not, since I didn't have any vegan cream cheese on hand. I used Earth Balance anyway (butter is so expensive, and a massive tub of Earth Balance is normally only $10, plus, I got that bucket for free!).
I think the next time I attempt red velvet, I want to try the roux based icing because it sounds very intriguing. I think it would be interesting to see how it works using milk alternatives too, since milk and my digestive system are not the greatest of friends.
Anyway, I hope you enjoy this almost chemically culinary post, and I hope you enjoy!
Natural Red Velvet Cupcakes
Serves: 24 mini cupcakes + 3 regular sized cupcakes, or 12-14 regular sized cupcakes.
Ingredients
For the cupcakes
- ¾ cup freshly puréed beets (boiled until tender, then puréed)
- ⅓ cup oil (I used coconut)
- 1¼ cup sugar
- 1½ tsp vanilla extract
- 1¼ cup flour
- ¼ tsp salt
- 1½ tbsp natural cocoa powder (NOT dutch processed)
- 1½ tsp baking powder
- 1 cup almond milk (or other milk alternative)
For the icing
- ¼ cup Earth Balance
- 1 block cream cheese (250g) - use vegan cream cheese to keep vegan
- 1 to 1½ cups icing sugar
- a splash of vanilla extract
Instructions
Preheat oven to 350F.
Mix the beet purée and oil until incorporated.
Add sugar, vanilla extract.
In a bowl, sift together flour, cocoa powder, salt, and baking powder.
Alternate adding the flour mixture and milk until incorporated into the batter.
Divide among cupcake liners, filling them ¾ full, and bake for 15-20 minutes (for mini cupcakes) and 20-25 minutes (for regular sized cupcakes) until a cake tester or toothpick comes out clean when poked in the middle.
To make the cream cheese icing, whip together all ingredients (add the icing sugar ½ cup at a time until it reaches your desired consistency)
Pipe onto cupcakes as desired. The beetroot may discolour the frosting if left for too long, so if you are piping this ahead of time, do not do so more than 24 hours ahead of time.
YOU MIGHT ALSO LIKE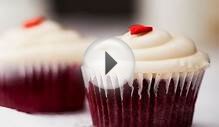 Red Velvet Beet Cupcakes Recipe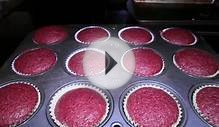 Vegan Red Velvet Cake made with red beets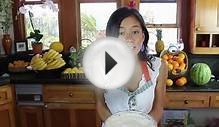 Red Velvet Beet Cake! (Raw Vegan)
Share this Post