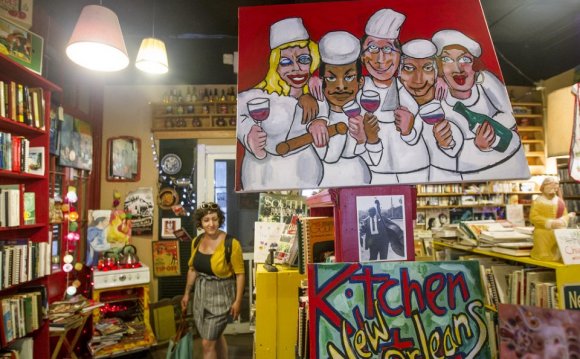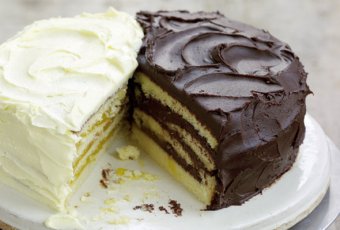 David Guas | DamGoodSweet | Taunton Press, 2009
Listen to David's interview with David Guas.
Doberge (pronounced ("doh-bash") cake is the birthday cake of New Orleans. Gambino's, Haydel's, and probably every bakery in the city offers their take on the filled and stacked layered cake, with the most popular option being the half-and-half, a Doberge with a lemon-chocolate split personality—literally, a lemon-filled-and-iced cake on one side and a chocolate-filled-and-iced cake on the other. This is my take on this truly New Orleans cake.–David Guas
LC Chocolate Doberge Cake Note
To make the fancy schmancy double doberge pictured above, you'll need Guas' chocolate variation.
Here 'tis…Follow the recipe for the Lemon Doberge Cake, substituting 2 cups of prepared chocolate pudding for the lemon curd. To make a chocolate ganache icing, bring 1 1/2 cups of heavy cream to a boil in a medium saucepan. Pour the hot cream over 12 ounces of finely chopped semisweet chocolate and set the bowl aside for 2 minutes. Begin whisking the mixture from the center until smooth, and then begin bringing the liquid from the sides of the bowl toward the center, whisking until the ganache has a nice sheen and is completely smooth. Whisk in 2 tablespoons of softened unsalted butter and press a piece of plastic wrap directly onto the surface of the ganache. Set aside for at least 6 hours (or overnight) before giving the ganache a gentle swirl and frosting the top and sides of the cake with an offset spatula.
Special Equipment: 9-inch springform pan
Lemon Doberge Cake Recipe
Quick Glance
45 M
2 H
Makes one 9-inch cake
Ingredients
For the cake
2 sticks, plus 2 tablespoons unsalted butter, melted, plus 2 tablespoons for the pan
1 3/4 cups all-purpose flour, plus 2 tablespoons for the pan
1 1/2 teaspoons baking powder
3/4 teaspoon salt
1 teaspoon vanilla extract
6 large eggs
1 3/4 cups sugar
3/4 cup whole milk
2 cups
For the icing
1 stick unsalted butter, at room temperature
4 cups confectioners' sugar
1/4 cup fresh lemon juice
2 drops yellow food coloring (optional)
Share this Post