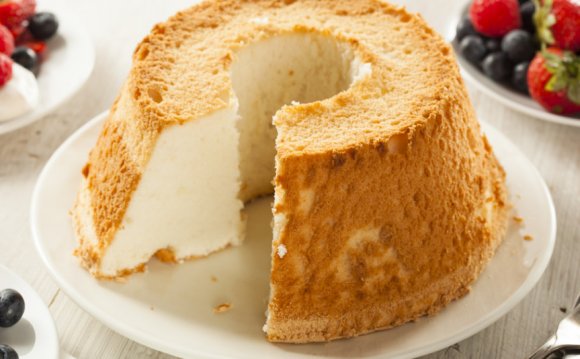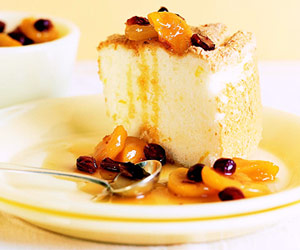 By Catherine Cogliandro Alioto
Makes: 12 servings
Preparation: 50 minutes
Cool: 2 hrs
Bake: 40 mins
Carb Grams Per Portion: 61
Components
1 1/2 glasses egg whites (10 to 12 huge)

1 teaspoon ointment of tartar

1 1/3 cups extra-fine granulated sugar

1 tablespoon finely shredded orange-peel

1 cup sifted cake flour

1 1/3 glasses liquid

2 6 - 7 - ounce package dried apricots, halved

1 glass dried out cranberries

2/3 cup orange liquid

1/3 glass granulated sugar

2 inches stick cinnamon

1/2 tsp vanilla

1/4 tsp almond extract

Instructions
In an extra-large bowl allow egg whites to face at room temperature for 30 minutes. Add cream of tartar to egg whites. Beat with an electrical mixer on moderate rate until soft peaks form (tips curl). Slowly include the 1-1/3 cups extra-fine sugar, about 2 tablespoons at the same time, beating until stiff peaks form (tips stand straight).
Sprinkle orange peel over beaten egg whites. Sift about one-fourth of flour over outdone egg whites; fold in gently. Repeat, folding within the continuing to be flour by fourths. Pour batter into an ungreased 10-inch tube cooking pan. Gently cut-through batter to eliminate any large atmosphere pouches.
Bake in the cheapest rack in a 350 degrees oven about 40 minutes or until top springs back when softly handled. Instantly invert cake (keep in cooking pan); cool thoroughly. Loosen edges of dessert from cooking pan; remove dessert.
Meanwhile, for compote, in a medium saucepan combine liquid, apricots, cranberries, orange liquid, the 1/3 glass sugar, the cinnamon, vanilla, and almond draw out. Bring to boiling; lower heat. Simmer, covered, for ten full minutes. Eliminate from heat. Discard cinnamon. Transfer the compote to a serving dish. Provide cozy or cool over dessert cuts.
Nutrition Information
Servings Per Recipe: 12
PER SERVING: 257 cal., 56 mg salt, 61 g carb. (3 g dietary fiber, 38 g sugars), 5 g pro.
YOU MIGHT ALSO LIKE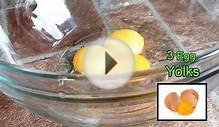 How to Make Rainbow Fruits Chiffon Cake ...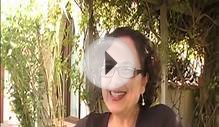 How to Make an Angel Food Cake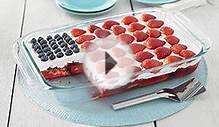 Wave Your Flag "Cake" Recipe
Share this Post